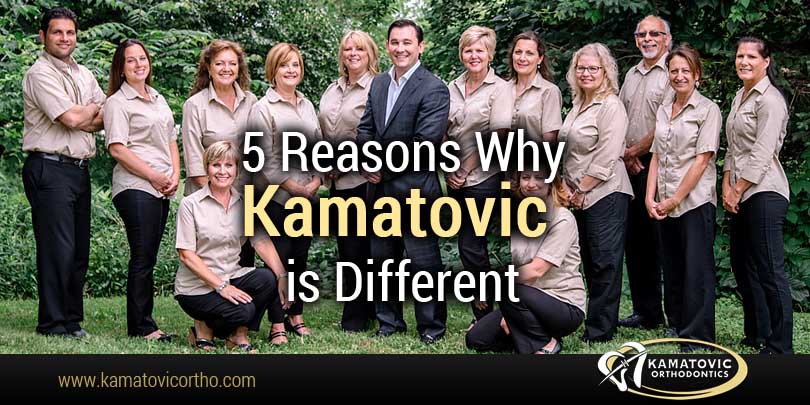 What Makes Kamatovic Orthodontics Different?
The Differences Between Orthodontists and Dentists in Niagara
Both work together to look after your oral health. Orthodontists go to dental school first. They are general dentists and then go back to school for another 3 year university Master's degree to specifically to care for the alignment of teeth and jaws.
Orthodontists are experts in diagnosing, preventing and treating dental and facial irregularities and ultimately bringing the teeth, lips and jaws into proper alignment. These adjustments are not only for cosmetic purposes, but for health as well.
Only someone who has completed a Master's Degree in Orthodontics can call themselves an Orthodontist.
But What Makes Dr. Kamatovic Different From Other Niagara Orthodontists?
When looking for a certified and professional orthodontist in Niagara Falls, St. Catharines, or Welland, you'll want to find a someone who not only specializes in braces, Invisalign, and Kamaflage Aligners, but does so in a comfortable environment. From the moment you arrive at Kamatovic Orthodontics, in Niagara Falls, ON, you will feel welcomed and pleasantly surprised by their family-friendly atmosphere.
The Office Culture
At Kamatovic Orthodontics, the waiting room has TVs and magazines, but also exciting games for kids of all ages. Fun interactive video games like the racing game and Netflix movies make the waiting room enjoyable.
The office is so colourful! It is certainly designed unlike any other orthodontic office in the Niagara Peninsula. The walls and furniture are decorated with warm colours. There's a giant coral reef mural and one with hot air balloons. Kids, teens and adults will look forward to and enjoy their experience.
The office is friendly and welcoming. You can tell the staff loves seeing their patients healthy and happy. If you are getting your braces off or they catch you having fun, you may be asked to share your photo on Facebook, Instagram or Twitter.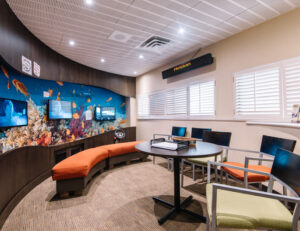 Hours Convenient for You
Because they value your time, the office hours are extended late Wednesdays. Work late? After school activities?
They can accommodate.
Creating an Aligner Unique to You
The lab is uniquely on site. Appliance and retainer creation; adjustments or repairs can be completed the same day. No unnecessary delays or extra visits.
Their lab fabricates Kamaflage Aligners. Their proprietary in-office clear aligner system designed by Dr. Kamatovic provides a cost effective clear alternative treatment solution.
Each tooth movement is calculated by Dr. Kamatovic on 3D software. The aligners are fabricated on-site using KAMATRACK A material and are made a few at a time so Dr. Kamatovic can evaluate and customize treatment. All tooth movement "models" are archived, which is an advantage to you. Broken, damaged and lost aligners can be fabricated in one day, with no need to wait like other systems.
Other Treatments
Propel
Orthodontic treatment slowing you down? Ask about Propel!
Propel is an advanced orthodontic technique that works with your braces or aligners to fast track your orthodontic treatment. Propel works with your own biology to simulate the bone surrounding your teeth to help your teeth to move faster and more predictably. Ask about Propel- a technique designed to give you fewer visits to the office and revealing your new smile sooner.
Mouthguards
Kamatovic Ortho initiated the Niagara Peninsula Sports Mouthguard program and fabricates all mouthguards in their in-house lab. The program is a cooperative effort between Kamatovic Orthodontics and many dentists in the Niagara Region to provide a valuable community service.
The program helps reduce the risk of injury to the lips, mouth, teeth and head during athletic competition by offering custom-made mouthguards at an affordable price. Complimentary custom-made mouthguards are made for patients when their braces are removed to protect their new smile. Mouthguards are also complimentary to their immediate family!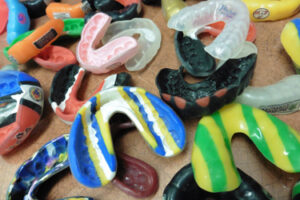 Juvederm Lip Enhancements
Juvederm is an injectable gel filler used by Dr. Kamatovic to enhance your appearance. It uses hyaluronic acid, a naturally occurring sugar found in your body, combined with water to gently restore lost fullness and subtly enhance and contour your lips.
It is a non-surgical treatment and takes as little as 15 minutes with minimal recovery time. Most people can resume normal activities immediately. You can see visible results instantly and it looks natural.
Flexible No-Interest Payment Plans
Kamatovic Orthodontics offers no-interest monthly payment plans and has knowledgeable Financial Coordinators to assist in filing insurance forms that will maximize your benefits. Their fees are inclusive of X-rays, emergency visits, a set of retainers and a custom mouthguard. No hidden costs.
Complimentary Consultations
Get to know Dr. Kamatovic and our team at Kamatovic Orthodontics. See for yourself the friendly family atmosphere they offer. Kamatovic orthodontics strives to provide the best for their patients and innovative ways to give you a beautiful smile.